A FORGOTTEN TALENT
With deep South African roots, James Vicary Thackwray was a fine artist, whose talent and artistic genius has, for decades, remained undiscovered. Through his paintings of the ordinary rural people, the Cape countryside, indigenous flowers and the actuality of real life in South Africa, he can undoubtedly be named as a true South African master.
THE COTTAGES
"While I have done many things in order to provide the necessary for the pursuit of my own art, these things were only a means to an end, for my driving passion is to paint my country and my people and to achieve an essentially South African character in my work……"
– James Thackwray
LANDSCAPES
"If there was a prize for a country so beautiful that it ought to foster peace and harmony amongst its peoples, then this prize should surely go to my country, so that its many people can live together in peace and harmony."
– James Thackwray
STILL LIFE PAINTINGS
"Thackwrarian" style may be defined more concisely as a work of art, primitive but pure in expression, depicting a society as it really was at the time, impressionistic to a certain extent, but peculiarly akin to James Vicary Thackwray.
XHOSA PAINTINGS
James Thackwray – An artist who knew the truth of the times in which he was living.
BO-KAAP AND DISTRICT SIX
"On Saturdays, which was my day off from selling, I would venture up to Signal Hill and sketch the surrounds capturing nature, and the peoples who lived in the area known as the "Bo-Kaap" – the descendants of the early settlers of the Cape."
– James Thackwray
The James Thackwray Story
An Artist Before His Time
The Cape Artist, James Thackwray (1919-1994) has often been compared to his contemporaries and friends such as Alexander Rose-Innes, Maurice von Essche, Professor Edward Roworth, and Professor Alfred Krenz. However, he never achieved the recognition which many feel he deserved, mainly due to his quiet unassuming manner and his failure to conform to the norms of the society in which he was to paint.
The subject of his paintings reflect the forced division of the peoples of his country, one which was not a popular subject amongst the artistic intelligentsia of the times. James Thackwray's magnificent work, "Conversation with a Clown" evokes the feeling and anguish of a country uneasy with itself. The lack of eye contact between the woman and the clown illustrates the segregation and pain that apartheid created, the poignancy of the division evident in both faces.
"I recently walked through the barren weed-infested land that was once District Six, with a great deal of nostalgia, as I vividly remembered many of the people who lived there. Its clay soil speaks of those friendly people who through forced removals, now live miles away from the Cape metropolis….. many of the aged who were born and bred in this area have passed on, but the hurt lives on in the minds of their progeny……. it is ironic that …….the acres and acres of vacant land remain for all to see as a testimony to a ruthless policy that has done South Africa no good……"
James Thackwray's Work
His Early Work – Cape Artist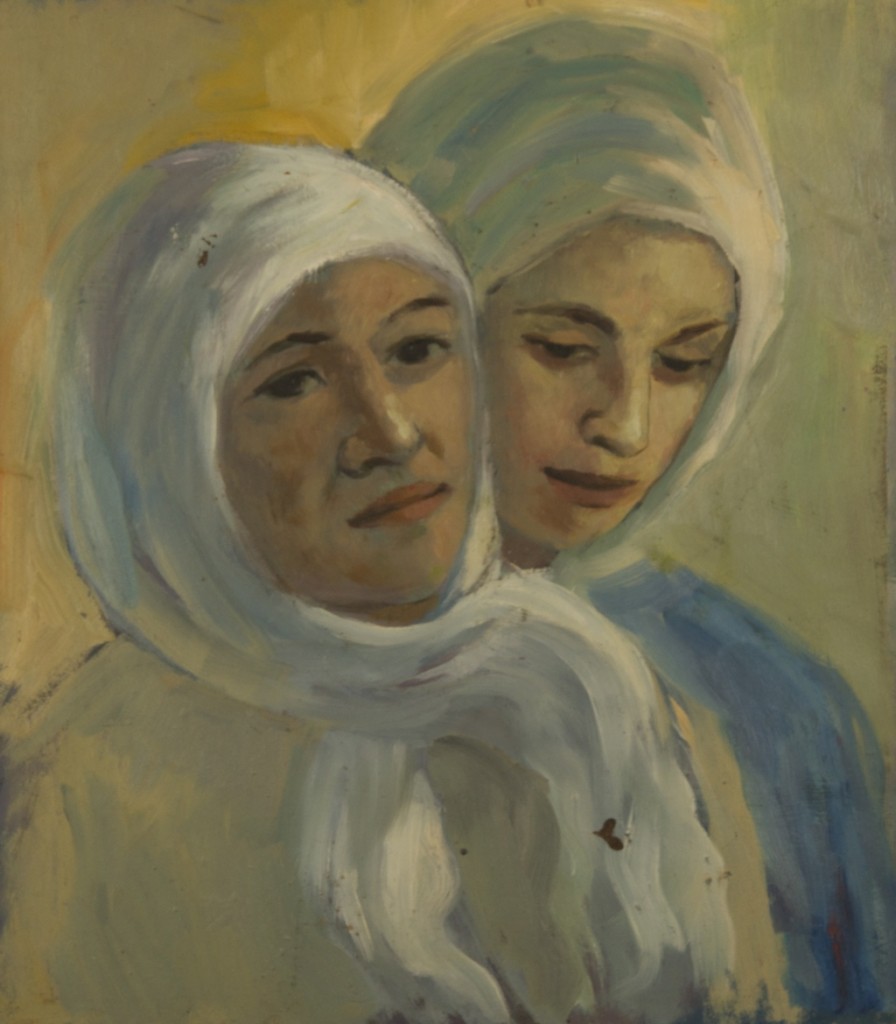 The Cape Artist's early work included many portraits which he painted with skill and sensitivity, capturing the emotions of his subjects, as can be seen in the hauntingly beautiful portrait of the "Cape Malay Sisters".
In 1949, he married Freda Laurence, with whom he had 5 children: two daughters and three sons. The family lived on a small-holding in Strickland near Bellville and the new surroundings provided an additional dimension to his art. He began painting people in their environment, capturing their daily lives as they worked in the fields and vineyards of the Cape.
During the turbulent years of the 1950's and the beginnings of apartheid, a number of black artists emerged, painting scenes of township life. They tried to capture the events and the turmoil unfolding in the country. As a white Cape artist, Thackwray was out of sync with the thinking of the white artists of that era. He continued to paint the Cape Malay people, and in particular, those of District Six and the Bo-Kaap.
The catastrophic declaration of District Six by the apartheid government on February 11, 1966 as a purely "white" area, saw Thackwray portray much of the area in his art. His paintings have a haunting quality which evidences the pain and suffering of the people. They remain a reminder of what people endured under the government of the day and the manner in which they managed to cope.
Art Themes & Mediums – 'Thackwrarian' style
His primary medium was oil, and later in his career he employed the use of the palette knife to 'produce a more realistic form of art.' It was not unusual for him to burn any paintings which he did not believe came up to his "Thackwrarian" standard, and he left many of his paintings unsigned. His work is however immediately recognisable by its unmistakably style.
His paintings are a celebration of life and art. His robust approach to form and his restraint in the use of colour result in carefully constructed paintings in which perspective is a dominant factor. He is a sensitive and uncompromising Cape artist, who depicts his subjects with sincerity.
His work is distinctly South African in flavour, affording both critics and admirers an interpretation of the richness of this country and its people during challenging times, previously never illustrated by a white African Cape Artist.
The 'Thackwrarian' style is unmistakeable!
James Thackwray
An Unassuming Master
By George Ross Munro
"It is with great pleasure that I have finally put together 'James Thackwray – An Unassuming Master', a literary work and record of the art of one of the most unassuming artists in South African History.
I hope that you as a reader will be as inspired as I, when I first discovered the artworks of James Vicary Thackwray, their simplicity and beauty, a feast for the eye."
–  George Ross Munro
Paja Publications
Johannesburg
Email: pajapublications@gmail.com
Website: www.jamesthackwray.co.za
Walker Bay Art Gallery
Hermanus
Address: 167 Main Road, Hermanus, 7200
Contact: 082 719 0907
Email: francois@walkerbayartgallery.co.za
5th Avenue Fine Art
Johannesburg
404 Jan Smuts Avenue, Craighall Park
Contact: (011) 781 2040
Email: ray@5thaveauctions.co.za
Art Window
Johannesburg
Shop No LM8, Clearwater Mall, 927 Christiaan De Wet Road, Strubens Valley
Contact: (011) 675 3326
Email: artwindow3@mweb.co.za
Ebony Design
Franschhoek
Shop 4, Franschhoek Square, 32 Huguenot Street, Franschhoek, 7690
Contact: 082 558 2221
Email: info@ebonydesign.co.za
Stellenbosch Art Gallery
Stellenbosch
24 Ryneveld Street, Shop 1, Reyneveld Plaza, Stellenbosch
Contact: (021) 887 8343
Email: hester@borgelt.za.net
Art And Wine Gallery on Main
Clarens
279 Main Street, Clarens, Free State
Contact: (058) 256 1298
Email: anton@artandwine.co.za
His work hangs in many private collections and public institutions, a living testimony and memorial to the genius of the artist who failed to acquire the recognition which he so readily deserved during his lifetime.
Haiku Poetry
Apart from his work as a fine artist, Thackwray corresponded regularly with Japanese poets in Osaka and established a unique relationship with them. He was recognised as a Haiku Poet. Haiku Poetry is a concise form of poetry concerned with nature and its various forms and elements. His poems have been published in the Azami monthly magazine alongside contributions from Haiku poets from virtually every country in the world. There appears to be a world wide interest in Haiku poetry in English because of the concise nature of the poems.
Thackwray's Haiku poems mainly have an African context and some of his poems published in Osaka, Japan have included words like 'Tusker', 'Crocodiles', and 'Bushman', words that have never previously appeared in English Haiku poetry.
Haiku 1
Peculiar hush
of the African night
descends on the veld
The silence of the veld
is broken by the bark
of a bush buck
She stands with her lilies
on the street corner
hungry for the price of a meal
Haiku 2
Glaring tin shacks
rusting in sun and fog
shanty town
Over the shimmering horizon
into far corners
nothing but distance
Restless Atlantic ocean
melts the sands on the edges
of Namibian beaches
Haiku 3
Thoughts of love
for her garden fair
come from heaven above
Summer sun
fierce at midday
time for siesta
Deep blue sky
full moon
romance in the air
Haiku 4
Winter at rest
Summer awakens
prancing on the beach
From mountain heights
to valley below
endless trail
Deep blue sky
stars and full moon
exotic night
Haiku 5
Pages of the mind
recall
happy summer days
South Easter
wind of life
to sultry valley
Blackened sky
mass of locusts
down to devour
Please see one of our stockists to buy "James Thackwray – An Unassuming Master" by George Ross Munro to read the full version of artist's Haiku poetry.
The Cape Artist, James Thackwray (1919-1994) has often been compared to his contemporaries and friends such as Alexander Rose-Innes, Maurice von Essche, Professor Edward Roworth, and Professor Alfred Krenz, but failed to achieve the recognition that he so rightly deserved as an artist during his lifetime.
Contact
If you have a painting by the artist which you would like to be evaluated, please let us have an image of such painting, size and a condition report in respect of the painting and we will attempt to have your painting valued. If you would like the image of your painting included on our site, please advise us accordingly.